From: Nicole Thompson
Where: Los Angeles, California
What exactly is Ladies Styling For Bachata and what will it do for you?
Ladies styling is how followers add a feminine, sexy touch to partner dancing. In order to truly master ladies stying in partnerwork, you first need to be able to dance and move with confidence on your own. 
You need to learn how to move your feet, hips, body, arms, hands and even your neck. First, understanding how to make each body part move fluidly, then you need to learn individual movements like body rolls, hip rolls, waves, double turns and more.
Once you learn and practice all of the individual pieces, then you can put them together in combinations to practice execution, confidence, style, timing and more.
You see, most courses just teach a set of combinations, which can leave you feeling like you "don't know what you're doing" or "you'll never be able to do this." 
It's not your fault that you feel this way. Combinations should NOT be taught first. They should be taught AFTER the fundamental individual moves. So that is what we will focus on teaching you inside of this course. 
Styling has to be learned in layers in order for you to be able to do more complex things with ease. 
We've created a completely unique approach to learning ladies styling the easy and fun way. 
Never feel overwhelmed by long combinations again!
➡️  You've tried so many classes, like free YouTube Videos, in-person classes, quick tutorial from Instagram, and maybe even private lessons with little to no improvement...

➡️  You're totally new to all of this styling stuff and feel like you have no idea what to do with your arms (Hint: ... you just need a better step by step approach to learning)

➡️  You took a dance class but left feeling like it went "too fast" and had a hard time keeping up. Now you don't know where to start...

➡️  You like the idea of being able to learn at your own pace, rewind and replay key parts as often as you'd like so you never feel like you're being left behind... 
 If you nodded or said 

"Yes"

 to ANY Of The Above, Then I Want To Invite You To Enroll In: 
I Want To Introduce You To
Learn How To Add Elegance and Femininity Into Your Bachata Dancing With Arm, Hip, & Head Movement That Adds Sexiness To Your Bachata.

This course is for you if you are a follower and want to learn what to do while dancing with a leader so you don't look plain or "boring." You will learn when and how to do each movement to not interrupt the leader.
We also have a section for ladies combinations. We really focus on teaching you how to do realistic things that you can do with a dance partner. We do not want to just show choreography that you can only do by yourself.

✅  45+ Video Lessons

✅  (Over 12 Hours of Training)

✅  No Partner Needed!

✅  24/7 Access On All Devices

✅  One-Time Payment & Lifetime Access

✅  This is a 100% Online Course 

✅  +5 Free Bonuses When You Enroll Today
Normal Price: 

$497
Yours Today For Just One Payment Of 

$197
 📸

Picture this: a
 one-hour private session with Nicole and I would typically cost $200.
Now, let's do some quick math.
Our course? It's packed with over 7 hours of detailed training, breaking down every move and technique you need to conquer Dominican Style Bachata like a pro.
If you were to receive the same amount of one-on-one training time with us, it would cost a jaw-dropping $1400!
But guess what? You won't have to pay even a fraction of that price. For just $197, you gain access to our treasure trove of knowledge, with the added bonus of rewinding and repeating lessons at your own pace.
It's like having us right there with you, guiding your every step on the dancefloor. When you compare the cost of countless classes or private lessons, our course is an absolute steal that will make you the dancefloor star you've always dreamed of becoming. So why settle for ordinary when you can embark on an extraordinary dance adventure with us? Let's unleash the Bachata magic, make those moves, and create dancefloor memories that will have you smiling from ear to ear! Get ready to own that dance floor, my friend!
FREE LESSON
Watch the first 3 lessons of this course for free.
Here's Exactly What
You'll Learn:
💃🏻 You will learn basic and foundational techniques so that you can have a sol id foundation for your steps and turns before learning complex moves which means you will be able to start learning styling without developing bad habits.
🍑 You'll learn how to move your hips, hands, arms, feet and body so that you look like a sexy smooth, natural dancer that everyone wants to dance with.
⭐️ You will learn head and chest movement exercises so that you can move with fluidity and elegance.
👠 You'll learn over 20 moves individually so that you can master the techniques one by one without over complicating it, which allows you to learn easily without ever forgetting the moves.
✋ You'll learn how to do all of your basic arm styling movements so you can perfect the motions and easily integrate them into your social dancing.
You'll also learn how to make your arms look eye catching, yet elegant so that you feel like a goddess on the dance floor, say goodbye to shy and timid styling forever.
🔥 You'll learn all of the body movements like body rolls, waves, head rolls, lateral body rolls, booty rolls and more so that you can practice and perfect all of these essential body movements for the dance floor.
🎵 You'll learn over 10 combinations that you can do over and over again to create muscle memory of the moves and really make styling feel natural and effortless.
Are You Ready To Learn The Fundamentals & Techniques To Improve The Way You Look While Doing Ladies Styling?
Enroll Today, You're Guaranteed to Love This Course!
Getting Started With Us Is As Simple As 1-2-3!
Here's How You Can Enroll & Get Your Classes ASAP!
Take Advantage Of This
Incredible Offer Before It Ends!
Just one private lesson (1hr) with us is $200, now you can have over 12+ hours of lessons and over 45+ video tutorials, personal access to us via email and our students only Facebook Group!
 "
30-Day Dance 

Transformation" Guarantee
You have a full 30 days to study this program and decide if it's right for you.
That's ample time to evaluate its effectiveness and see the results for yourself. We're confident in our program, and we believe you'll be too.
We guarantee that if you follow the program step by step, practice what you have learned, and implement it on the dance floor, by the time the program is done, you will have transformed your dancing, developed a solid understanding of the core fundamentals of Bachata, and gained the complete confidence to dance with anyone!
Sound fair? Sign up today to take advantage of this ZERO RISK GUARANTEE!
Here's What To Do Next!
From here it's just finalizing the details. Click on the button below and create your account, then we can finally get started!
Thanks for taking the time to read this letter and watching the video. I look forward to hearing your success story at the end of this course!
In case you're one of those people (like me) who just skip to the end of the letter, here's the deal:
When you join "The Fundamentals Of Ladies Styling For Bachata" course today (for just $197) I'm going to give you 5 FREE bonuses TODAY!
Oh, and if for some crazy reason you don't love the course - Email us and we'll refund your $197.
Sound fair? Then what are you waiting for!?! Join "The Fundamentals Of Ladies Styling For Bachata" course Today!
Remember, anyone can learn how to Bachata ladies styling even if you have no prior dance experience.
Here's to your success with learning how to do ladies styling quickly an easily without the headache of searching for hours on Youtube for random videos!
- Nicole Thompson
PS - If you're sick and tired of thinking you can't learn, then "The Fundamentals of Ladies Styling For Bachata" Course is the solution you've been looking for... let's get started today!
P.P.S. - But don't just take my word for it... take a look at these reviews & testimonials from our happy Bachata students that are just like you!
🤔
Still Have Questions?
We Have The Answers
Can a beginner take this course?
What is your return policy?
How is Bachata Dance Academy different from YouTube videos?
Who are Demetrio and Nicole?
How long do I have access to the course?
Do you offer a guarantee?
Do I Pay One-Time or Reoccurring?
 Ready To Join Hundreds Of Dancers Who Are Mastering Their Bachata Ladies Styling Quickly & Easily?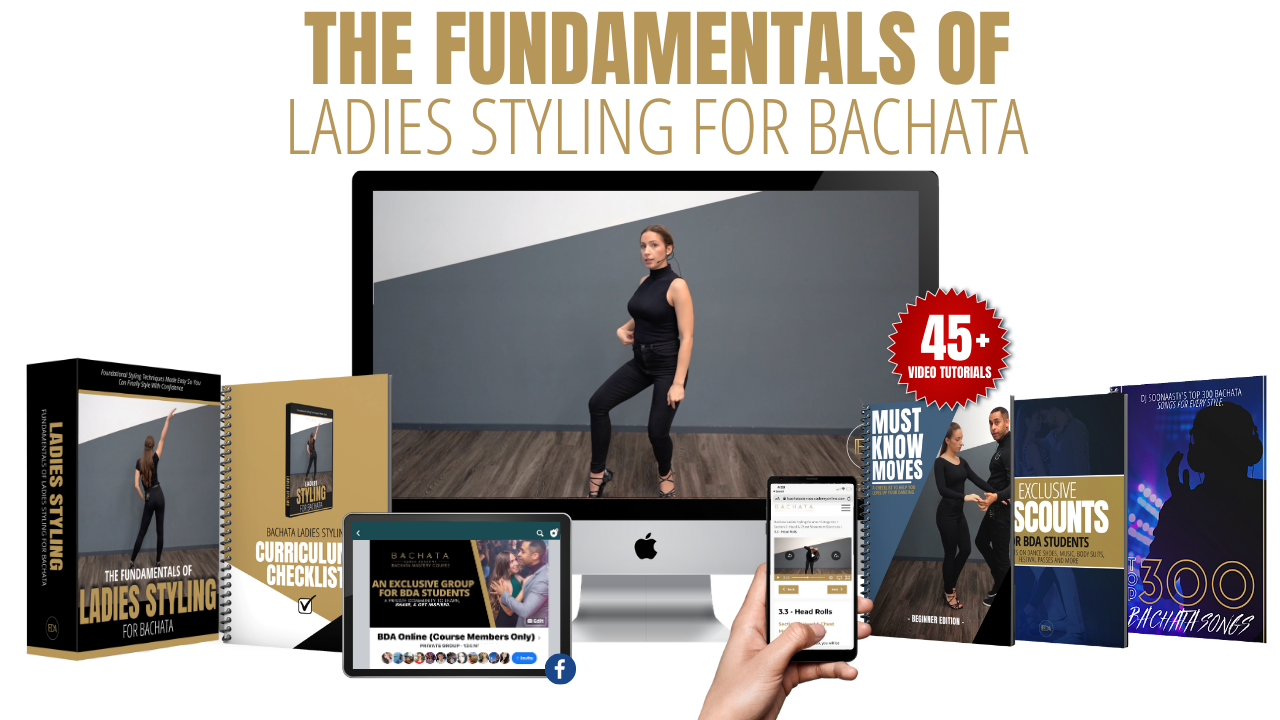 Join today and get lifetime access to all of the content, support and bonus material.
TOTAL VALUE:

 

$1,272
Yours Today For Just

 

$197
See our hundreds of 5-star reviews from happy Bachata dancers just like you. 
HAVE QUESTIONS?
If you have any questions or doubts about whether this program is right for you, please tap to contact us by:
EMAIL [email protected]
PHONE (562)641-5327